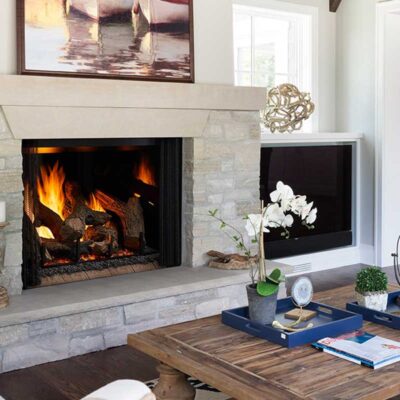 Fireplaces are one of the most sought-after features of a home. From energy-efficient heating to adding stylish ambiance to any space, fireplaces greatly improve the look and feel of a room while increasing the value of the home. Gas fireplaces are becoming an increasingly popular choice due to their low maintenance and environmental friendliness.
Gas fireplaces burn a clean flame through propane or natural gas instead of wood, giving off the same warmth and real flame of a traditional fireplace without the hassle and expensive energy bill. Whether you're thinking of adding a fireplace or renovating an existing one, here are some reasons to consider installing a gas fireplace in your Indianapolis home.
They're efficient.
Efficient fireplaces not only help reduce costs, but also contribute to a cleaner environment. Gas fireplaces are much more efficient than traditional, wood-burning fireplaces. In fact, the direct ventilation of a gas fireplace is 60-90% efficient compared to the 30% efficiency rate of a wood-burning fireplace.
They're highly desirable and add value.
According to the National Association of Homebuilders, fireplaces are one of the top three amenities new homeowners request and they can increase the value of the average home by 6-12%. Therefore, it's fair to say that investing in a gas fireplace will yield good returns if you choose to sell your home in the future.
They're easy to operate.
Gas fireplaces are controlled by just the touch of a button or the click of a switch. With traditional wood fireplaces, extra time is taken to chop wood, stack it and store it for future use, but with a gas fireplace, there is no prep work necessary.
They add style to any space.
Gas fireplaces come in various designs and styles, so you're bound to find a fireplace that fits your personal aesthetic. You can even install gas fireplaces that come with natural looking logs if you want the traditional look and feel of a wood-burning fireplace.
They provide continuous heat.
Since you don't have to tend to a gas fireplace, you never have to worry about the warmth dying out. Gas fireplaces may have a thermostat option that you can adjust to better control the size of your flame and maintain a consistent room temperature.
Installation is simple and flexible.
Installation of a gas fireplace is more flexible than traditional fireplace installations. Gas fireplaces can be installed in almost any room, on almost any floor. Even better, fireplace professionals can convert old, wood-burning fireplaces into gas.
They require less maintenance.
Say goodbye to soot and ash! Gas fireplaces do not burn real wood, so there is no cleanup necessary once you're done using it. Unlike gas fireplaces, traditional fireplaces require regular maintenance to avoid creosote accumulation. When you use gas a fuel source instead, you will dramatically reduce the amount of Maintenance you put into your fireplace.
They're environmentally, kid and pet friendly.
Gas fireplaces release less fumes than traditional fireplaces, making them more environmentally friendly in the long run. They're also a safe choice for homeowners with children and pets because they do not release toxic fumes, sparks or open flames.
They can reduce yearly heating costs.
Gas fireplaces can help you save on heating costs by providing warmth while the seasons are changing. If it's too warm for central heat, but cold in your home, you can rely on your fireplace instead to warm up your home through zone heating. You can strategically heat specific areas of the home so you reduce the amount of money spent heating up rooms that are used less.
They add ROI.
A new fireplace has a return on investment, making it a highly rated home renovation project. Adding a well-designed gas fireplace to your home, or replacing a wood-burning fireplace with a gas one, will increase the value of your home.
Want the best gas fireplace for your Indiana home? Heat & Glo gas fireplaces combine style and simplicity of innovation with a pure draw of comfort and warmth, making them the most efficient, high quality and premier option.
Godby Hearth & Home is proud to be an Indiana platinum Heat & Glo gas fireplace dealer. We have served thousands of homeowners with their fireplace and would love to help you next! Connect with us to browse our Heat & Glo options and learn about how we can help you enhance your fireside experience today.