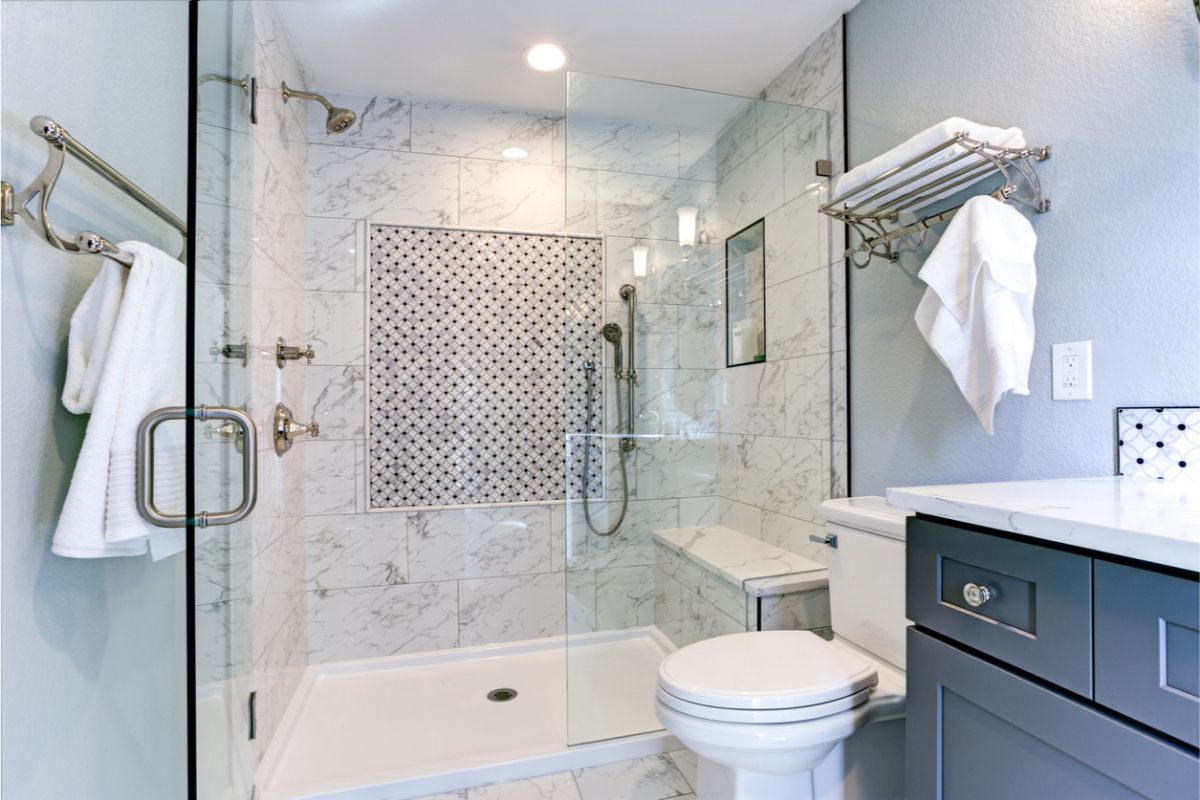 Your bathroom should be a place where you love to unwind and relax after a long day. Whether you like to read a book in the tub or relish in your skincare routine, adding upscale and custom design features to your bathroom is the best way to make it feel like your own personal retreat. If you're looking for a way to improve your shower, replacing your old curtain with hinge shower doors is a stylish and functional choice. Let's explore this beautiful, transformative option.
What is it:
A hinge shower door is a glass panel that is attached with hinges to allow the door to swing open and shut. Made entirely of glass, it adds an elevated look to the bathroom and can be customized to match any décor. To make your hinge bathroom door your own, you can customize your hinges, glass options, hardware, framing, and more!
Hinge Options
There are 2 different types of glass shower door hinges—pivot and wall mounted.
Pivot Hinges create a point from which the door can pivot inward and outward allowing for a large range of movement. Wall mounted hinges attach the glass door to a wall or panel of glass and allow for outward movement and a sealed closure. Both options open up to 90 degrees and allow users with mobility restrictions to access the shower easily. Pivot hinges have a sleeker profile while wall mounted hinges have a bit of a bulkier design.
Frame Options
One reason hinged shower doors are such a desirable choice is because of the sophisticated all-glass look they provide, and while frameless shower enclosures are the most popular choice, there are a few alternative options to consider.
Frameless: Built from unframed sheets of glass, frameless glass showers are simple, minimalistic and modern. With a full-glass design from top to bottom, this style allows all of the attention to be on the shower tile. Since they don't have tracks or wheels, frameless shower doors are easy to clean and maintain.
Semi-frameless: Semi-frameless showers have fully glass doors, but the structure itself is surrounded with an aluminum frame. This option has a similar look to a frameless style but is more affordable.
Framed: A less popular choice, framed glass doors include aluminum framing on all glass edges. This budget-friendly option is the most affordable because thinner glass can be used in the structure. You still get the benefits of a hinged door but lose the classy all-glass design.
Crittal: With a modern and bold look, a crittal shower door is a newer design that is gaining popularity. It features a black metal frame with statement gridwork on top of the glass.
Hinge shower doors are an excellent choice if you're looking to transform your bathroom. Compared to sliding doors or a shower curtain, they have a more upscale and custom appearance, and with a straightforward design, they don't need many repairs. The full-glass design makes small bathrooms look larger and adds emphasis to beautiful tile work that homeowners love.
Ready to transform your bathroom?
Add high quality hinged shower doors to your bathroom today! Let the professionals at Godby Hearth & Home turn your shower into the retreat of your dreams. Give us a call at (317) 449-7804 or email us at sales@godbyhearth.com to get your project started.