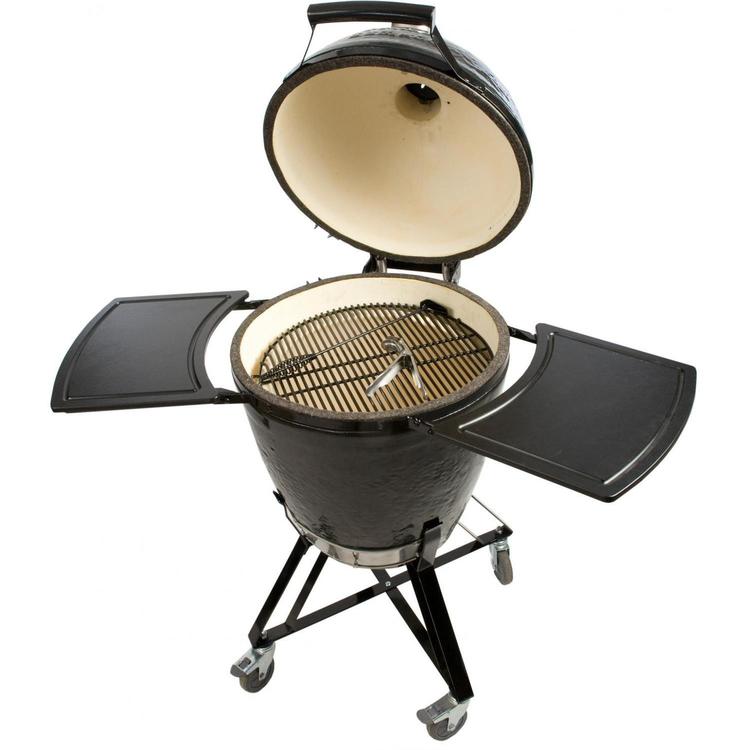 Kamado grills are becoming an increasingly popular choice for grill masters and casual cookers alike. Even though the Kamado grill has only been around for a few decades, its egg-shaped structure has been used for centuries in Asian countries to retain heat and evenly cook different kinds of foods. As a versatile option, the Kamado allows for plenty of cooking methods, including grilling, smoking, roasting and baking. 
Traditional wood and charcoal-fueled Kamado appliances were made from clay, but it didn't take long for early grilling enthusiasts to discover that ceramic Kamado grills provided superior insulation and maintained high temperatures without wasting fuel. Now, most modern-day Kamado grills function similarly to wood-fired ovens by absorbing heat on its thickest sides. Whether you use it to cook burgers or smoke brisket, Kamado grills allow you to enjoy delicious, evenly cooked meals that require less cleanup than a regular grill. 
So why should you make the switch from a standard charcoal or gas grill to a Kamado grill?  
They're Heavy Duty 
Kamado grills are designed with maximum durability and insulation in mind. Some grills are made with thin metals that cannot maintain heat in cold, windy temperatures, but the heavy ceramic material found on Kamado grills evenly absorbs and radiates heat from top to bottom to effectively cook food. When properly cared for and maintained, Kamado grills can last for years. 
They're Fuel Efficient 
Since Kamado grills retain heat so well, less charcoal and oxygen are needed to fuel its fire. The dampers that control the intake and exhaust in a Kamado grill allow for an airflow that produces a steady flame. Whether you prefer to cook in the colder months or enjoy foods that require long, slow cooking, simply closing the lid on a Kamado grill allows you to cook anything at a low, consistent temperature. 
They're Versatile 
Kamado grills are designed for multipurpose use. Accessories like heat deflectors turn standard Kamados into advanced smokers, while firebox dividers allow for a two-zone setup so you can cook with indirect convection heat. No matter your personal tastes — or grilling experience — Kamado grills can roast, smoke, sear, grill, cook and bake. 
They're Easy to Use 
The structure of a Kamado grill puts you in full control. Once you add in your charcoal, you use the grill's vents to change the heat. For high-temperature foods like steaks and burgers, open the vents as wide as possible. Conversely, for low-temperature cooking, close the vents to minimize airflow into the grill. If you're used to regular charcoal grills, don't forget to use Kamado grills with the lid closed. Too much airflow can overheat the charcoals and damage the ceramics. Kamado grills are designed to be airtight, so be careful when opening the lid so you avoid bursts of fire. When you're done cooking, fully close the vents to extinguish the flame. The grill will take a while to cool down, but the charcoal will extinguish quickly and be ready for the next time you need them! 
Which Kamado grill is right for me? 
Some of the best Kamado grills on the market are The Big Green Egg, Kamado Joe and Primo brands. However, the name does not matter nearly as much as what you want to get out of your grilling experience. Since all Kamado grills have a heftier price tag, it's worth exploring every available option to ensure you're getting the most bang for your buck. From rack extenders and heat deflectors to chicken setters and pizza stones, some Kamado grill brands incorporate bonus features into their pricing while others consider accessories to be an extra expense.  
Regardless of the price tag, included or added on features, Kamado grills have impressive warranties that make them a worthwhile investment. To keep your warranty intact, our Godby Hearth & Home team requires using lump charcoal, not charcoal briquettes, and keeping lighter fluid out of the firebox. Make sure you thoroughly read through your grill's warranty to prevent making mistakes that will void it completely. 
It's always grilling season at Godby Hearth & Home 
If you're interested in learning more about Kamado grills, our knowledgeable, friendly and BBQ-enthused team is here to help! We can show you the available options based on your budget and cooking needs so you can become the family grill master and take your cookouts to the next level!