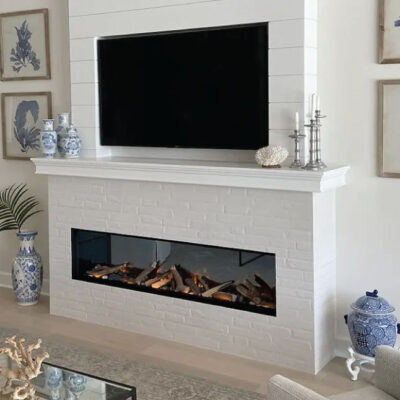 Fireplaces have been a staple in homes for years and consistently provide a high return on investment, making them one of the most sought out features for potential buyers. If you want to enjoy the aesthetic ambiance of a fireplace 12 months a year, modern electric fireplaces are becoming the popular fireplace choice for homeowners, renters and builders alike. If you're used to traditional wood-burning fireplaces or gas fireplaces, switching to an electric fireplace can be an intimidating process.
As a trusted installer of contemporary electric fireplaces for homeowners across the Greater Indianapolis area, we know a thing or two about this popular, eco-friendly option. Here's our complete buyer's guide to electric fireplaces:
How electric fireplaces work
Unlike a traditional fireplace, an electric fireplace does not rely on gaseous fuels. Instead, they use specialized technology and electricity to produce realistic flames. Electric fireplaces can plug into your wall socket and are operated with a remote control.
To produce flames, electric fireplaces have a motorized device that refracts light off mirrored panels or strips of metal to create the illusion of a real, flickering fire. Other models use advanced technology that creates flames through water vapor or audio/visual components. Best of all, the flame feature of an electric fireplace functions without any of the heat output, meaning you can enjoy the ambiance of fire in warmer months without the heat.
Heat production capabilities
The common 120-volt electric fireplace provides between 750-1500 watts, which creates 4,500 to 5,000 BTUs of heat. There are varying opinions as to the amount of space an electric fireplace will heat. Manufactures will promote heating output anywhere from 400 to 1,000 square feet. In any case, electric fireplaces are designed to be a supplemental heat source in space.
Required electrical connection
Almost all electric fireplaces plug into a standard 120-volt wall socket, making installation as simple as plugging the appliance in and turning it on. However, if you live in an older home, you need to make sure your electrical system can support the appliance to prevent a blown fuse or breaker. Most manufacturers recommend their electric fireplace is plugged into a dedicated 15 AMP breaker. If you have electrical concerns, be sure to hire a licensed electrician and have them hardwire your fireplace into your electrical system to make it a permanent fixture. No matter the strength of your system, our team highly recommends using surge protectors or fire-safe sockets to prevent overheating and fires.
Installation capabilities
Electric fireplace installation is incredibly flexible. All modern free-standing and wall-mounted electric fireplaces are zero-clearance, allowing you to install them anywhere without extra consideration. Conversely, built-in electric fireplace units have installation restrictions and clearance requirements to ensure heat escapes and does not build up inside your walls. You can place an electric fireplace in traditional indoor locations like living rooms, bedrooms, offices and basements, as well as non-traditional indoor locations like bathrooms, entryways and attics.
Safety
An electric fireplace is the safest fire feature option on the market. Since they only require electricity to operate, they do not produce fire, smoke, combustion byproducts or harmful emissions. They also stay cool to the touch and do not give off an odor, making them ideal for homeowners with chronic health conditions, small children or pets.
Different types of electric fireplaces
No matter what type of home or room you want to heat, there are different kinds of electric fireplaces to choose from. The common choice among homeowners is a modern freestanding electric fireplace. Freestanding units can be easily moved and can even come with collapsible panels, making them ideal for placing in corners or against a wall.
Another popular choice is a wall-mounted electric fireplace. These units are ideal for smaller spaces with less available floor space. They require a little more installation effort than a free-standing electric fireplace, but they provide the same aesthetic benefits regardless.
If you want to install an electric fireplace in a wall, entertainment center or existing fireplace structure, a built-in electric fireplace would be the best choice. Built-in electric fireplaces are designed to be a permanent solution for homeowners that want to make the most out of existing structures.
Stylistic options
Electric fireplaces come in a variety of styles that suit all personal aesthetics. Whether you prefer a modern, sleek look or a traditional, old-fashioned style, there's a model out there for you. At Godby Hearth & Home, we have electric fireplaces in stock from a variety of manufacturers, including the highly desirable Simplifire electric fireplace. If you are interested in exploring all the available options, come and see us at our Rockville Rd Showroom!
Ready to switch to an electric fireplace?
Godby Hearth & Home is proud to be Indiana's choice for fireplace installation and servicing. We have served thousands of homeowners with their fireplace and would love to help install a electric fireplace that you will love for years to come! Connect with us to browse our options and learn about how we can help you enhance your fireside experience today.