Gas fireplaces are a popular, attractive heat source for many homeowners as they offer the appearance and warmth of a traditional wood-burning fireplace, but without the hassles of burning wood.
Have you been looking to add, transform or update your hearth to be gas? Before you go out and pay for the first gas fireplace that comes your way, you need to know the difference between the available options and what to look for to select the right one for your home. This article will walk you through the different types of gas fireplaces and venting options to help you choose the right one for your home and lifestyle.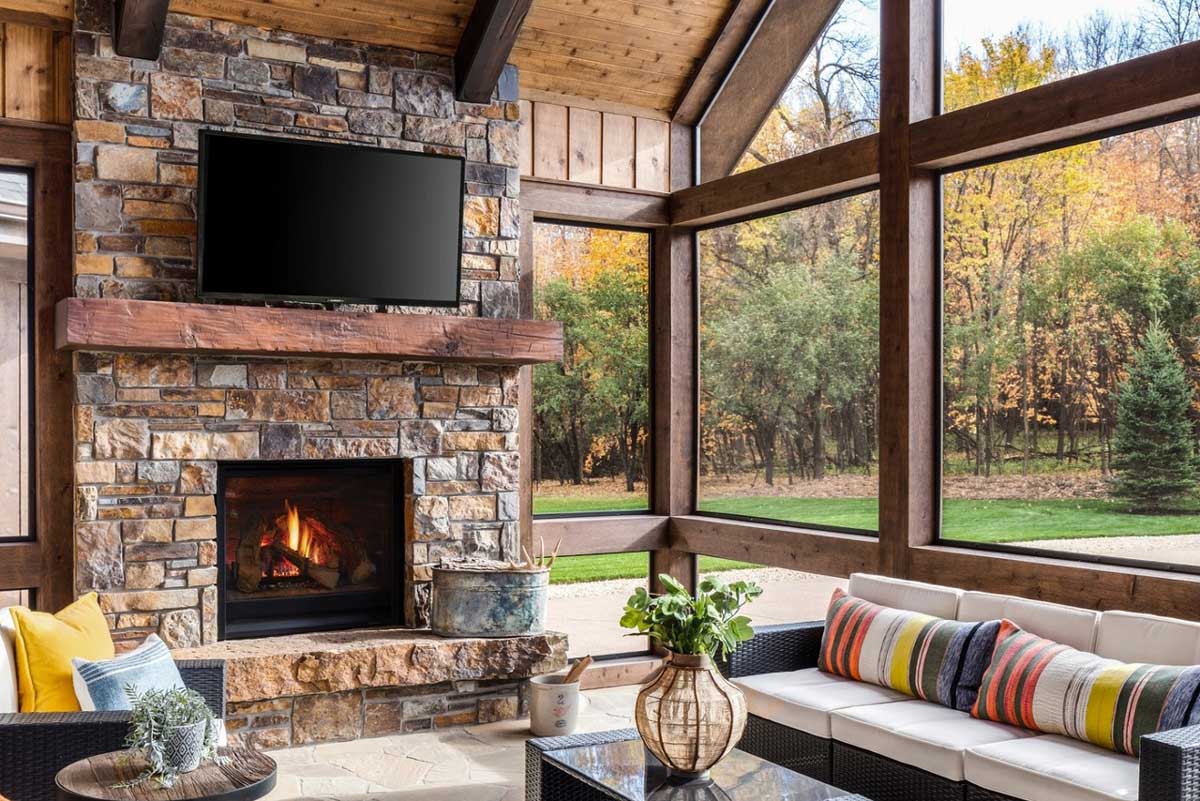 Gas Fireplace Types and Differences
Gas fireplaces are available in three types: log sets, inserts, and built-ins. Each of these gas fireplace types allows you to choose between vent-free models that release all their exhaust and heat into the house and direct vent models that discharge its exhaust outside your home.
Log sets are stack of refractory/ceramic logs with gas burners set in an existing woodburning fireplace. They are a less expensive choice than inserts or built-in products. Vented gas logs are a less efficient heat source and are selected more for their looks than warmth. Vent free gas logs create a maximum amount of efficiency but are more static in their flame presentation.
Gas inserts are the log and burner system in a metal box installed within an existing wood burning fireplace. Inserts utilize the existing chimney space to run their own co-linear flex flues to the top of the chimney. Inserts are available in either ventless, with a fixed metal screen or direct vent, with a fixed glass panel and screen combination in front of the decorative flames
These fireplaces feature a metal fire box install within a wood framed cavity during a new or remodel construction project. These fireplaces can be either vent free or direct vent gas. This allows flexibility with chimney runs. Direct vent gas fireplace flues can be run vertically, and/or horizontally while vent free do not require any flue system so you can install them almost anywhere in your home.
If you have a limited budget and an existing
wood burning fireplace
, gas log sets might be for you. But if you're willing to shell out more money to retrofit a traditional wood burning fireplace with something more efficient and convenient, consider going for a built-in fireplace or gas insert.
Now that you have the idea of the types of gas fireplace available, let's delve into what features to look for to select the right one for your home!
Things to Consider When Choosing a Gas Fireplace: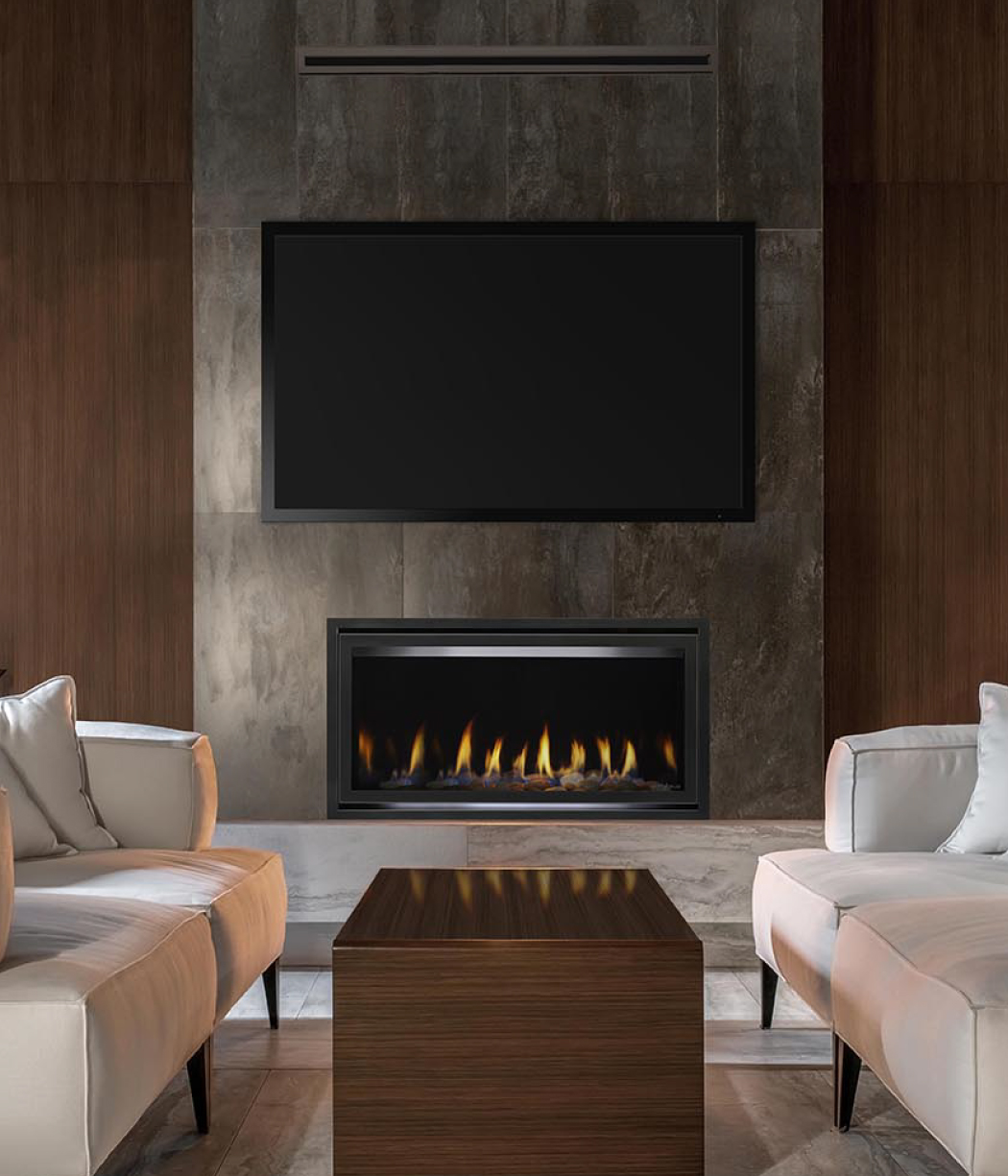 Cost
The cost of gas fireplaces varies depending on the type you choose. Expect to pay $1,000 to $2,000 (including installation) for gas log sets and $5,000 to $8,000 for gas inserts. Adding a gas fireplace during a remodel project range from $4,000 for vent free gas and to $15,000 for a higher end direct vent gas product. There normally are additional general construction costs related to modifying the area of the house to accommodate the fireplace.
Fuel type: Propane or Natural Gas?
Gas fireplaces can use either type! Where there's no natural gas, choose propane. However, natural gas typically produces more heat (about 5% more than propane) and is currently less expensive.
BTU Input
Gas fireplaces have different heat outputs, from about 20,000 – 60,000 BTUs. The ideal BTU for your home depends on your area's climate, room size, ceiling height and location in the home. A professional can assist you to find the right fireplace for your BTU needs.
Vented or Vent Free?
Vented gas fireplaces, inserts and gas logs do not a smoke, but their flames can create pollutants like sulfur oxides, nitrogen oxides, and carbon monoxide. Vented gas fireplaces cannot be terminated to the outside. Vent free gas fireplace, inserts and log sets also produce emissions but at much lower levels which allows them to be safely released into your living space.
Vent Free Product
This technology does not require any venting to the outside, so they can be installed almost anywhere in your home. They are up to 99% efficient since the heat they produce is released into your home – along with the other particles of combustion. Indoor vent free product is limited to 40,000 BTUs (10,000 BTUS in sleeping areas) and designed to burn extra clean due to air quality concerns.
All vent free products have an oxygen depletion system that monitors the room's oxygen level and shuts off the unit if it drops below 18%. There are some US cities and states, that ban the use of indoor vent free products over concerns of indoor air quality. In addition, there are contractors and retailers that do not sell vent free product due to odor and moisture issues from the combustion.
Vented Product
Direct vent is the technology of choice for vented gas product. It creates a balance between cost, aesthetics, and efficiency by utilizing a dual flue system. Direct vent technology provides outside air into the sealed firebox for combustion through one pipe then utilizes another pipe to expel combustion fumes out of the house. The co-axle or co-linear pipe can be terminated through an outside wall or directly out the roof.
B-vent is another technology used in vented models. This venting option gets combustion air from room and uses a single pipe to carry the exhaust out of the home. They are about 30% efficient and should come with a sensor to shut down the fireplace if exhaust gases inadvertently spill into the room vs expel through the flue pipe.
Other features to consider when improving your fireplace's appearance, comfort and convenience include:
Electronic Ignition
Traditionally, gas products used a standing pilot ignition system, which required a pilot flame to continuously run to ignite the gas product. In recent years, electronic ignition systems have become more popular. Electronic ignition provides a spark to the gas that lights the pilot flame which in turn heats up a thermopile and lights the burner. This eliminates the need for a continuously running pilot flame which creates a fuel savings of up to $10 per month.
Battery Backup

A battery backup ensures that you can light your fireplace even when there's a power outage. This was an added feature to the electronic ignition systems. The standing pilot lights systems have no electrical requirement and therefore will light as long as the pilot light is burning.
Flame Height Adjustment

This feature allows you to set your preference for heat output and flame height. You can enjoy a roaring fire or a whispering flame.
Built-in Fan

The primary purpose of a built-in fan is to push the heat from the fireplace away from the wall. The heat still continues to rise but will blend with the cooler in the room. This can help balance the heat in a room and improve overall comfort.
Best Indiana Gas Fireplace

Looking for the best gas fireplace options for your Indiana home? We can help! As an Indiana Platinum Heat & Glo gas fireplace retailer, we can determine the best model and features for your home, budget, lifestyle, and application needs. Visit one of our showrooms to learn more about the premier Heat & Glo gas fireplace options today or schedule a consultation with us to learn how to enhance your fireside experience.​