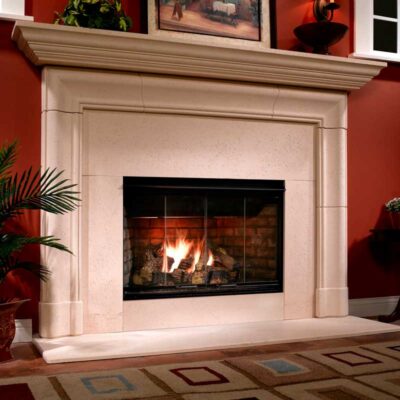 Gas fireplaces are a popular, attractive heat source for homeowners who want the appearance and warmth of a traditional wood-burning fireplace without the hassle. As one of the most sought-after amenities in homes today, more and more people are turning to gas fireplaces to heat up their homes due to their affordability and flexibility.
No two homes are the same, so everyone's fireplace buying experience is different. Instead of choosing the first gas fireplace you find, there are a few important things to consider beforehand to ensure you pick the best fireplace for your home and lifestyle.
Location
We've all heard the phrase, "Location, location, location." Since gas fireplace models come in different sizes, you need to know how much space you have to work with before you buy anything — especially If you plan on adding a gas insert to an existing hearth.
The interior design of your home and the colors of the room your fireplace will sit in also come into play when choosing a location. Your fireplace should seamlessly blend into your aesthetic and sit in a space that makes sense for the room's intended purpose. For example, you wouldn't put a fireplace off to the side or behind furniture in a living room. That would make sense in a study room or den that offers a more aesthetic appeal, but in an open space that encourages gathering and coziness, your gas fireplace should be the center of attention.
Heat
Once you've chosen a location, you need to decide how much heat output is necessary for the space. If you are heating a smaller room, you should choose a gas fireplace model with a lower BTU output. If you are heating a bigger space — like a large living room or kitchen — you should choose a gas fireplace model that produces more heat.
In general, fireplaces are great at producing heat but less effective at distributing it. To determine the impact a fireplace will have on heating a room, you need to consider the square footage, ceiling height, ceiling fans and cold air returns located in the room.
If you choose the wrong heat output, you will be left with a room that never gets warm enough or gets too hot. We recommend talking to a trusted fireplace installer when deciding which gas fireplace model is best for your space.
Venting
Gas fireplaces have two types of venting systems. When choosing a fireplace, you need to make sure the venting system aligns with your needs and complies with both manufacturer specifications and local building codes.
The first is a traditional B-vent system that requires a class B flue system. B-vent fireplaces draw combustion air from inside your home and exhaust the combustion gas through your roof utilizing a metal flue pipe. This venting system is less efficient because it loses a large amount of heat through the flue pipe and pulls heated air from your home for combustion.
The second option is a direct vent system. Gas fireplaces with direct vents are a safe and efficient alternative to fireplaces with traditional brick chimneys. The completely sealed system of a direct vent relies solely on air from outside your home, maintaining indoor air quality and improving efficiency.
Customizations & Accessories
Most modern-day gas fireplaces come with additional customizations and accessories that can make your fireplace a unique statement piece. From trims and finishes to controllable accent lights, flame heights, glass, ceramic stones and log options, you can design a fireplace that is truly one-of-a-kind. Be sure to explore all available customization and accessory options when choosing your fireplace to ensure you're getting the most bang for your buck. You also need to consider proper spacing for a TV, electronics or decorations before finalizing your design.
Looking for the best gas fireplace for your Indiana home?
We can help! As an Indiana Platinum Heat N Glo gas fireplace retailer, we can determine the best model and features for your home, budget, lifestyle, and application needs. Visit one of our showrooms to learn more about the premier Heat N Glo gas fireplace options today or schedule a consultation with us to learn more about how we can enhance your fireside experience.