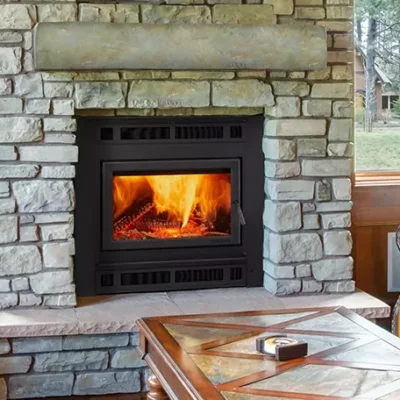 There's nothing better than cozying up next to a blazing fire and relaxing during the colder months. Wood-burning fireplaces may be the age-old standard, but they are quickly losing their popularity to gas fireplaces. Unlike wood-burning fireplaces, gas fireplaces do not come with the extra hassle of chopping and hauling firewood, making them a great heating source for homeowners who prefer less maintenance.
When you start shopping for a new fireplace, you will quickly discover that there are two main categories of gas fireplaces: direct vent and vent-free. Both types come with their own set of pros and cons, which can make the decision-making process overwhelming. But don't worry!
With years of experience helping Hoosier homeowners with their hearths, our team at Godby Hearth & Home knows a thing or two about fireplaces. When debating between a direct vent or ventless gas fireplace, there are a few important facts and considerations to keep in mind.
What are vent-free fireplaces?
The biggest difference between direct vent and vent-free gas fireplaces, as inferred by their names, is the venting system. Ventless fireplaces do not require a vent pipe and are often purchased by homeowners who want their fireplace in a specific area of the home where venting is nearly impossible. The burner in a ventless gas fireplace is extremely efficient and can be installed in your existing wood burning fireplace inside your home.
What are direct vent fireplaces?
Unlike a vent-free gas fireplace, a direct vent gas fireplace has a sealed glass panel and venting system. A vented gas fireplace pulls air from the outside into the fireplace and then expels exhaust back outside through a separate pipe, Direct vent units can also be installed in your existing wood burning fireplace inside your home.
What are the advantages and disadvantages of vent-free?
One of the biggest arguments in the direct vent vs. vent-free gas fireplace discussion is efficiency. While both systems are efficient, vent-free gas fireplaces are significantly more efficient and have a greater heat output. Ventless gas logs can also be used when the damper is closed, resulting in more heat staying inside of your home instead of slipping out through the flue.
However, most vent-free fireplaces are less realistic in appearance. Some localities have codes and regulations in place that limit or ban the use of vent-free fireplaces. There are strict rules for installing ventless gas fireplaces in bathrooms or bedrooms, including limits on how many BTUs are allowed. Vent-free gas fireplaces also have significant clearance requirements that apply to the areas above and around the fireplace.
What are the advantages and disadvantages of direct vent?
Unlike their vent-free counterpart, direct vent gas fireplaces are typically more realistic and have a better flame presentation. Additionally, direct vent fireplaces do not emit odors or soot, or moisture into the room. Direct vent gas fireplaces are great for those who have an increased sensitivity to odors or suffer from allergies or asthma.
Another key difference between direct vent and ventless gas fireplaces is design. Direct vent fireplaces have many different sizes and shapes, media options, frame styles and frame finishes available to create a truly custom look and feel that matches your unique aesthetic. However, direct vent gas fireplaces typically cost more than vent-free fireplaces and require careful installation to ensure the venting process works seamlessly.
Is your mind made up? Need additional information?
Godby Hearth & Home is proud to be Indiana's choice for fireplace installation and servicing. We have served thousands of homeowners with their fireplace needs and would love to help install a gas fireplace that you will love for years to come!
If you still can't choose, we would be happy to discuss direct vent vs. vent-free fireplaces with you and help you choose the best system for your home. Feel free to give us a call or visit us at our showroom to browse our options and learn how we can help you enhance your fireside experience.